The small camping area is equipped with 8 hot water showers, 6 toilets, a thatched-roof bar and a place to do laundry and washing dishes. If you like breakfast, lunch and dinner can be served at the close by restaurant of the Vogelstrausskluft Lodge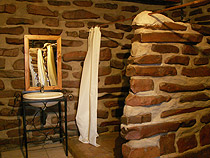 (walking distance about 5 minutes) and of course all
activities
offered at Vogelstrausskluft can also be booked if you stay at the Vogelstrausskluft Campground.
The Vogelstrausskluft Campground is located directly at the »shores« of
the dry pan
. Sheltered on three sides by small hills and a red sand dune the campground offers a spectacular view over the dried out lake to the north. Rarely, after heavy rainfalls in the headwater-regions of the Schnepfen River, the pan might fill with water and so forms a blue lake in the middle of the scarce desert landscape - an indescribable scenery.
The campground is accessible from the main access road (no 4x4 necessary, overlanders are welcome). Each of the four campsites has an own large braai area, water and electricity and can accommodate up to 10 tents around a preset fire place.